Regular price
$265.00 USD
Regular price
Sale price
$265.00 USD
Unit price
per
Sale
Sold out
Josh Harris Family Bulk Beef Cow Share
WEIGHT:

 Approximately 52lbs

 
(Cuts individually packed and professionally vacuum sealed)
DEPOSIT ONLY DUE TODAY:

 

$265
TOTAL PRICE:

 $597 (or $567.61 if Paid in Full Today)
WEIGHT:

 Approximately 105lbs

 
(Cuts individually packed and professionally vacuum sealed)
DEPOSIT ONLY DUE TODAY:

 

$465
TOTAL PRICE:

 $1,207 (or $1,146.13 if Paid in Full Today)
WEIGHT:

 Approximately 

210

lbs

 
(Cuts individually packed and professionally vacuum sealed)
DEPOSIT ONLY DUE TODAY:

 

$875
TOTAL PRICE:

 $2,413 (or $2292.26 if Paid in Full Today)
WEIGHT:

 Approximately 

420 

lbs

 
(Cuts individually packed and professionally vacuum sealed)
DEPOSIT ONLY DUE TODAY:

 

$1875
TOTAL PRICE:

 $4,827 (or $4,584.51 if Paid in Full Today)
With FREE SHIPPING and *Optional FREE BONES AND ORGANS ($149 VALUE!)
2 PAYMENT OPTIONS
 

(Choose what's best for you!)
1. Deposit Only Today*:
Remainder Due Prior to Shipping: Pay Only the deposit Today to Reserve Your Share, and remaining amount will be invoiced and due prior to shipping (orders will be fulfilled late Sept. - early Dec.)
*Note: Afterpay will not be available for final payment on Deposit Only orders. Afterpay is only available on initial Deposit and Pay in Full options.
2. Pay in Full: 
Help us responsibly plan and raise your beef by paying in full today. You will get approximately 5% off your beef package, between your whole beef pricing and discount,
THAT'S HUGE
 SAVINGS!
 It's a win-win for everyone!
GUARANTEED:

 All Beef is Backed by

 

Our "HFR Brand 100% Satisfaction or Your Moneyback Guarantee!"
---The 1/8 Beef is the perfect package for trying out all our different cuts, or topping off your at home beef supply. So if this is your first order with us, this is a great way to taste test our beef (warning, you'll have wish you ordered more!!!) 
The 1/8 Beef package is approximately 52lbs of Cut and Packaged Beef and fits in a standard size fridge/freezer combo (takes up about 1.75 cubic feet of space)
---The 1/4 Beef is the perfect "step up your game" package for being the go to spot for hosting or parties. The 1/4 beef will be the reason your guests keep coming back to your house for all the fun and festivities.
The 1/4 Beef package is approximately 105 lbs of Cut and Packaged Beef and will completely fill a standard size fridge/freezer combo.  It's recommend to have a chest freezer or 2 full shelves available in a stand up freezer. (takes up about 5.0 cubic feet of space)
---The 1/2 Beef will bring you to the beef buying and cooking expert of your community.  The 1/2 beef brings together families and communities on another level.  There's enough for YOUR family and some to give back to the community if you so choose.
The 1/2 Beef package is approximately 210 lbs of Cut and Packaged Beef and will not fit in a standard size fridge/freezer combo.  It's recommend to have a 10.0 cubic feet chest freezer or a medium sized stand up freezer.
---The Whole Beef what you've been waiting for...  YOU have arrived!!! The Whole beef is it!  It doesn't get any better than this.  If you have a major event coming up or you want to bless those around you more than you ever have, pick this one!  Or you could stock up and take care of your family for the better part of a year.  There is a lot of high quality beef here and it can be yours.
The Whole Beef package is approximately 420 lbs of Cut and Packaged Beef and requires a 20 cubic feet (or more) chest freezer or an 18+ cubic feet stand up freezer.  THIS WILL TURN HEADS!!!
Your deposit is essential for us to get to work raising your beef. It allows us to know how much beef to raise and helps cover the labor, time, and upfront costs necessary to raise beef the right way.
Because of this investment, the *deposit is non-refundable* Thank you for making this system possible!
YOUR PACKAGE INCLUDES
All butchering and processing fees
Dry aging for flavor and tenderness of 14 days.
All items are professionally packaged, and labeled with name of cut.
All meat is flash frozen to preserve freshness, quality and flavor.
Cuts are vacuum sealed for indefinite fresh quality in the freezer.
Free shipping nationwide.
Our "HFR Brand" 100% Satisfaction Money Back Guarantee
Share
View full details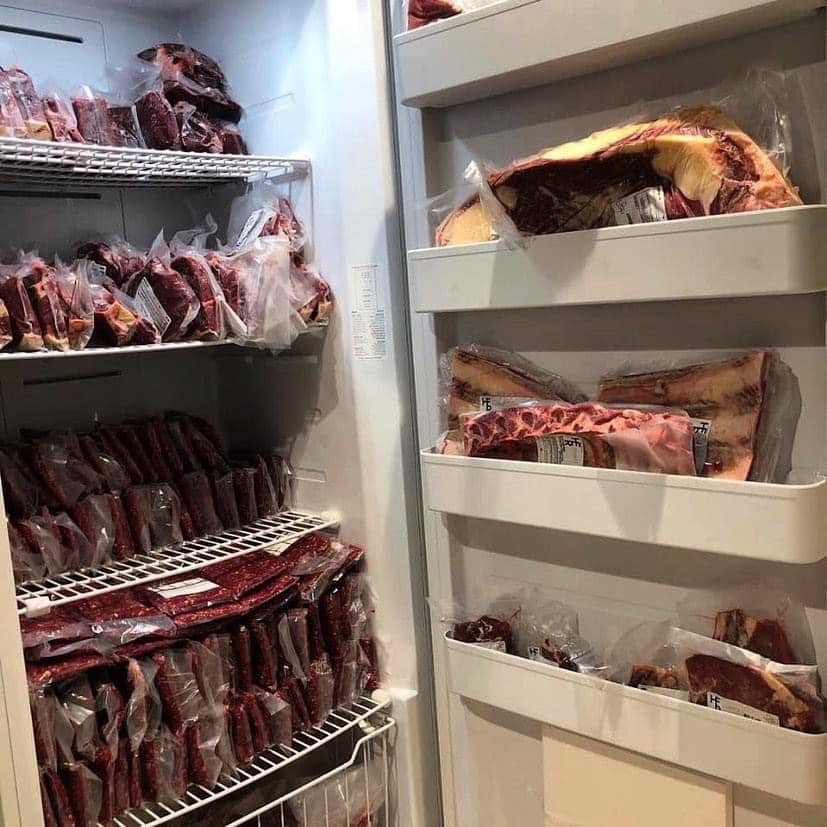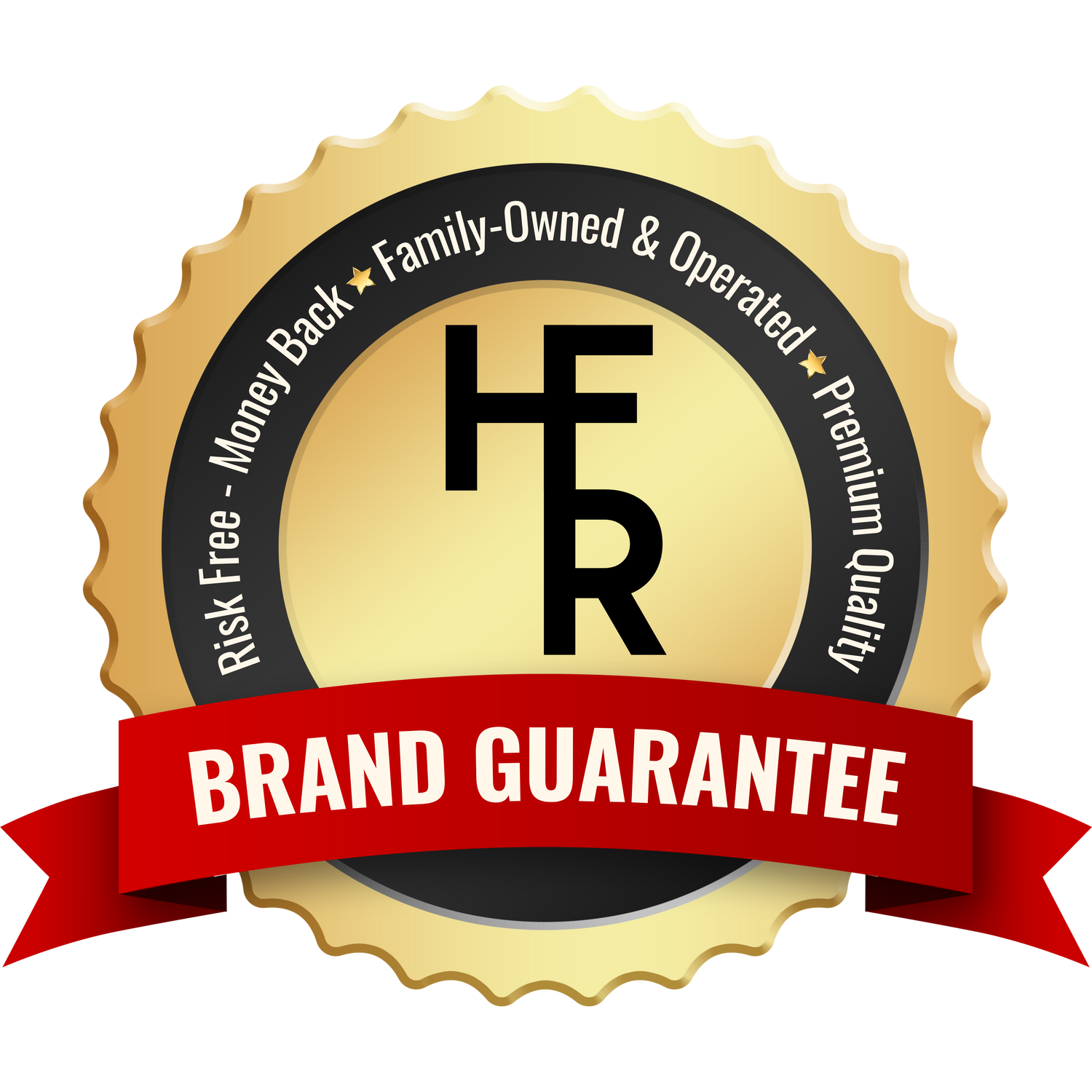 Our Guarantee
HFR Market is a brand you can trust. 
The HFR Brand Guarantee provides you with a risk-free, money back guarantee. We are confident in the quality of our beef that we know you'll love it, too! We also guarantee that our ranch is family-owned and operated. We treat our animals with the utmost care and respect in the most ideal, low-stress environment possible.